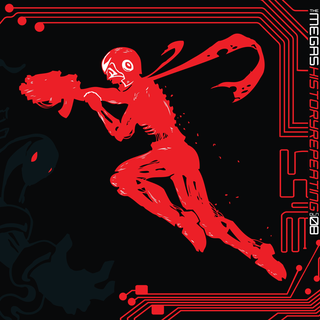 I honestly thought that the Megas couldn't top their previous album. I really enjoy almost every song on that one (Except "Walk Away From Light", but we won't talk about it). "Better Not Mess With Magnetman" is really fun and actually can hold some emotions. "Gamma Unchained" is one of the few songs that I have frisson and goosebumps to the entire song.
But, I wasn't expecting History Repeating: Red. Every single track on here is brilliant. Even the somewhat hilariously titled "Fly on a Dog" contains emotions that make me very involved with the song.
I'm having a hard time picking a favorite track. "Harder than Steel" is one of those really awesome "always keep on fighting" songs that don't fail to strike a chord with me. "GeminEye" has a great jazzy groove to it, and gets more confusing as the protagonist of the song gets more confused. "The Haystack Principle" absolutely kills it by directly comparing Needleman to Airman and taking a reference straight from their song about the later. It's one of the highest on this list. "Afraid of the Dark" is a tight groove, and I like it, but it somewhat lacks the impact of the others. "Make Your Choice" is so freaking awesome, the fighting ideals of Protoman and Megaman really reminds me of some of the Protomen's best songs. "I Refuse to Believe" is a great solidifying of Megaman's beliefs and how he'll continue to fight. "A Melody From the Past" is the ending song, and contains a huge amount of emotion, so long as you've been following the trend of the three albums by the Megas.
However, the best track, for me, is definitely "I'm Not the Breakman". The one line "I had a name, my father called me Blues" actually brings tears to my eyes when I hear it.
Overall, this is an excellent work of art. I would recommend this to anyone who's a fan of Megaman or just rock ballads in general.